Office 2010 Professional Plus
Office 2010 Professional Plus
English and
more than 10 other languages
German
French
Italian
Russian
Portuguese
Spanish
Arabic
Turkish
Chinese
Japanese
+ several other languages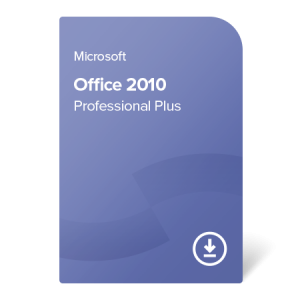 Picture is for illustrative purposes only. We deliver the product without packaging.
In stock
delivery within 5 minutes
Currently out of stock
Delivery by e-mail
Customers also buy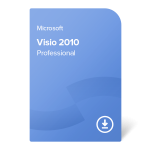 98% of customers recommend shopping at forscope.eu
Digital certificate
Transferable (online activation)
For 1 device only
Contents: Word, Excel, PowerPoint, OneNote, Outlook, Publisher, Access, InfoPath, Sharepoint and Lync
No expiration date
Compatible with Windows OS
Compatible with Remote Desktop Services (RDS)
Product type:
full version; possibly upgraded by maintenance agreement with copyright holder
Distribution type:
volume (OLP, EA or similar); digital certificate
Used software:
yes; we deliver all required documents in accordance with EU laws
Valid for:
lifetime
Transferability:
transferable
Installation method:
installation from the manufacturer's installation file (we provide a link for downloading the file)
Architecture:
32/64 bit
OS Compatibility:
Windows
Usage:
without restrictions
Language:
multilingual
MS Office Compatibility:
MS Office Standard, MS Office Pro Plus and standalone MS Office apps
79P-03549
Software certificate
Documentation in accordance with the EU laws (Seller's Declaration)
Confirmation of purchase (invoice)
Installation file to download
Processor:
500 MHz
Memory:
256 MB RAM
Hard disk space:
3 GB
Operating system:
Windows 7, 8, 8.1, 10; Windows Server 2008 R2, 2012, 2012 R2
Graphics:
DirectX 9 graphics processor
We also recommend
Office 2013 Professional Plus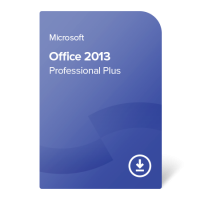 69,99 €
Office 2007 Professional Plus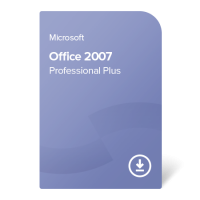 49,99 €
Windows 7 Professional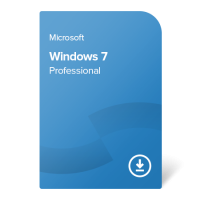 29,99 €
Office 2010 Professional Plus
Do more for less time with the Microsoft Office 2010 Professional Plus package. It includes all the powerful applications that you're used to Word, Excel spreadsheets, PowerPoint, Outlook, OneNote, Publisher and Access database software, the software package includes three additional applications optimised for use in small and large businesses. These are InfoPath 2010, SharePoint Workspace 2010, and Lync 2010.

Take your ideas from thoughts to reality by creating text documents, presentations, or spreadsheets and give them just the shape they need to impress anyone who sees them.

Word 2010
Turn plain texts into modern looking and clearly structured documents, add pictures, graphs, or links and make use of a wide range of the app's features. Create and edit professional text documents with extensive design options.

Excel 2010
Keep track of your finances, create graphs and statistics, or simply craft well arranged lists with countless items. Excel will help you gather, analyze and sort your data while giving them a professional and attractive form. The most popular software solution for data management and spreadsheets.

PowerPoint 2010
A powerful solution for creating beautiful and impressive slideshow presentations for any circumstance (be it a school project presentation or a "walk down the memory lane" for your best friend's wedding). Apart from numerous text editing options, you can add pictures, videos, website links, or music to take the presentation to a whole new level!

OneNote 2010
OneNote is a digital notebook that provides a single place where you can gather all of your notes and information, with the added benefits of powerful search capabilities to find what you are looking for quickly, plus easy-to-use shared notebooks so you can manage information overload and work together with others more effectively.

InfoPath 2010
InfoPath facilitates creation of end-to-end solutions on SharePoint Server 2010 that feature powerful forms together with enterprise scale workflow and access to key business data. InfoPath was designed, at its core, as a powerful XML editing engine that enables end users to interface easily with data.

Lync 2010
Enhance your teamwork with Lync, the app that brings all your business communication tools together. Learn more about Lync 2010 features and support options, and get tips for working together seamlessly.

SharePoint 2010
Collaborate seamlessly on documents and group projects with SharePoint. Learn more about SharePoint 2010 features and support, and find helpful tips for managing SharePoint sites and documents.

Outlook 2010
Keep on top of what matters with Outlook. Easily manage your email, calendar, and contacts all in one place. Learn about Outlook 2010 features and support options, and get tips for doing more with your email.

Access 2010
Access is a database management system (DBMS) that stores data in its own format based on the Access Jet Database Engine. It can also import or link directly to data stored in other applications and databases.

Publisher 2010
Publisher is a program designed to help you create publications, or documents that you can print and distribute. Publisher offers templates and other tools to help you create a variety of publications, including brochures, newsletters, business cards, and menus.
Important: It is not possible to install both volume and retail license versions of software on the same device. That means that, for example, you can't install Microsoft Office Home and Business (retail license) and Project Professional (volume license) on the same computer.