www.forscope.eu
Office 2013 Professional Plus
Office 2013 Professional Plus
English and
more than 10 other languages
German
French
Italian
Russian
Portuguese
Spanish
Arabic
Turkish
Chinese
Japanese
+ several other languages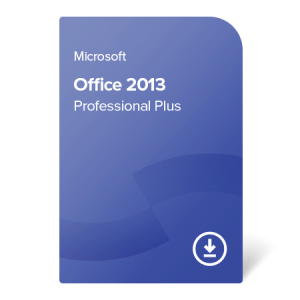 Picture is for illustrative purposes only. We deliver the product without packaging.
Software type:
used perpetual
with audit-ready legal documentation
Variant:
digital certificate
In stock
Electronic delivery within 5 minutes
Currently out of stock
Delivery by e-mail
Customers also buy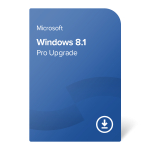 Want to consult your project and get an individual price offer? Contact us.
Individual offer
Audit-ready legal documentation
Since this product is used software, the law defines 4 conditions that are required for a legal transfer of software ownership.
We provide the first owner declaration confirming all legal conditions were met:
The first country of usage was within EU/EEA, or Switzerland.
The product was paid in full to the copyright owner.
The product is perpetual with no time limit for use.
The product is no longer in use by the first owner.
Forscope declaration of non-usage is also a part of the legal documentation.
Want to know more about the provided documentation? Check our article.
Sample documentation
Transferable (online activation)
For 1 device only
Contents: Word, Excel, PowerPoint, OneNote, Outlook, Publisher, Access, InfoPath and Lync
No expiration date
Compatible with Windows OS
Compatible with Remote Desktop Services (RDS)
Recommended for Windows 10 or older operating systems
Product type:
full version; possibly upgraded by maintenance agreement with copyright holder
Distribution type:
volume (OLP, EA or similar); digital certificate
Used software:
yes; we deliver all required documents in accordance with EU laws
Valid for:
lifetime
Transferability:
transferable
Installation method:
installation from the manufacturer's installation file (we provide a link for downloading the file)
Architecture:
32/64 bit
OS Compatibility:
Windows
Usage:
without restrictions
Language:
multilingual
MS Office Compatibility:
MS Office Standard, MS Office Pro Plus and standalone MS Office apps
79P-04749
mainstream support: 10.04.2018, extended support: 11.04.2023
Software certificate
Documentation in accordance with the EU laws
Confirmation of purchase (invoice)
Installation file to download
Processor:
1 GHz
Memory:
1 GB RAM (32-bit); 2 GB RAM (64-bit)
Hard disk space:
3 GB
Operating system:
Windows 7, 8, 8.1, 10; Windows Server 2008 R2, 2012, 2012 R2, 2016
Graphics:
DirectX 10 graphics processor
We also recommend
Office 2013 Standard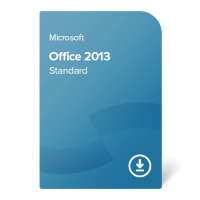 Price on request
Office 2016 Professional Plus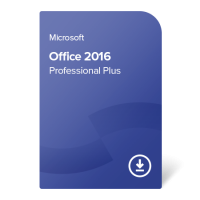 119,99 €
Windows 10 Pro Upgrade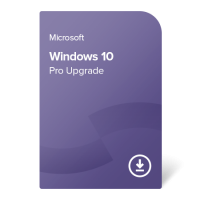 Price on request
Office 2013 Professional Plus
Office 2013 enables users to access their documents from any device, at any time. Create your own Microsoft account and work on your documents privately despite being on a shared computer. In addition, with OneDrive online cloud you may now securely upload and share your files.

This Office suite includes the applications Word, Excel, PowerPoint, OneNote, Outlook, Access, Publisher, InfoPath and Lync.
So, what's new?
Word 2013
Word has a new Design tab on its ribbon that makes it easier to apply various formatting features and to understand how they relate to one another.

Excel 2013
Excel improved by including some more intuitive features such as QuickAnalysis. This feature enables you to find the right tools for your data and preview your changes before applying them.

PowerPoint 2013
PowerPoint presents a variety of improvements that gives you the flexibility to customize the design of your presentation more than before. Extremely fun is to interact with your PowerPoint documents on touch devices as you can now swipe, tap, scroll, zoom, and pan your way through your presentations.

OneNote 2013
OneNote enables you to insert new mediums such as screen clippings in a more swift and comfortable way.

Outlook 2013
Outlook makes the management of your business more encompassing, yet very time-efficient. You can now schedule online meetings, incorporate the weather forecast in your plans, and view your colleagues' calendars to find the optimal time for communication.

Access 2013
Access manages your data bases. You can use this app by sharing data in the cloud online. Thanks to that program your data will be safe, grouped and well-organized.

Publisher 2013
Publisher is a text and graphics editor that can create business cards, forms, presentations, and websites. Everything is created using text fields into which you insert pictures and text.

InfoPath 2013
InfoPath Forms Services, which is available in SharePoint Server 2013, enables you to deploy an InfoPath form template to a SharePoint Server so that users without the InfoPath rich client can open and fill out InfoPath forms in a Web browser.

Lync 2013
Lync comes with a new look and is much easier to use, allowing you to communicate quickly and easily. Now starting an IM (Instant message) or a call is much easier. You can start a video call with just one click and even see a preview of your own video in the invitation. Organizing contacts is quicker and easier too!
Important: It is not possible to install both volume and retail license versions of software on the same device. That means that, for example, you can't install Microsoft Office Home and Business (retail license) and Project Professional (volume license) on the same computer.