The legal side of used software is a big topic for our customers as well as for anyone considering buying it. Before we dive into what specifically our company provides as proof of legality, it is important to take a brief look at what is required by the law first.
Based on European legal acts and court decisions, (e.g. the 2009/24/EC directive, or the Court of Justice of the European Union decision in Case C-128/11), four legal conditions for the legal transfer of software ownership were formed. The fulfilment of these conditions is proved by accompanying documentation, which contains all necessary information and serves as evidence (for example during a software audit) that the software products are truly yours. Because if you fail to prove your rightful ownership, your company is at a high risk of getting a big fine.
What are the four legal conditions for the transfer of software ownership and what kind of documentation you need?
Required conditions in accordance with EU law
The first country of release and purchase of the product was within the EU/EEA, or Switzerland.
The product was paid in full to the copyright owner.
The product is perpetual with no time limit for use (not a subscription).
The product is no longer in use by the previous owner(s).
Documentation
Every used software seller is legally obliged to provide information confirming the above mentioned conditions were met. This information is included in the accompanying documentation that you should always receive upon purchase, so that you have evidence you are the rightful owner of the purchased licenses. There is no official template for the visual look of the documentation, but the factual content needs to include the following:
Origin of the software (first country of usage)
License Agreement number
Product name and License Agreement type
First owner declaration containing:
- Declaration of uninstallation of the software
- Confirmation the products are perpetual and were fully paid for
- Confirmation the products were first purchased and put into use in EU, EEA, or Switzerland.
WHAT TO BE AWARE OF: There are different websites, e-shops, and sometimes individuals selling even the latest versions of software for very low prices. The catch is that many of them only sell product keys, not the products themselves, so you don't have any legal entitlements to them. It is like buying and owning a key to a house instead of the house itself. A software product key and an invoice issued by the seller do not guarantee legality, nor the ownership of the software they belong to. Do not be mistaken by the fact that the key allows you to activate the software products – an activated product doesn't mean you are its owner and have a legal right to use it. That is proved only by proper legal documentation for your purchased software license(s).
What documents do our customers receive?
We at Forscope provide complete audit-ready legal documentation. However, there are two important things to keep in mind:
1. Forscope's Legal documentation is provided only for Microsoft perpetual products
The reason is simple – software products from other manufacturers are either transferred to you directly by them (Autodesk), or you will receive a confirmation document of the transfer from them (Adobe).
2. There are different versions of the legal documentation that we provide
As used software products can originate from different sources, the number of documents as well as the amount of information we are able to share can differ. It's because some (or even all) of them can be protected by NDA (Non-disclosure agreement), or GDPR (General Data Protection Regulation), and can be made available only to an auditor upon request.
Here are samples of the legal documentation that you can receive from us:
Documentation with confidential information redacted
Documentation with confidential information displayed
You can also find the sample of the legal documentation you would receive after purchase of a concrete product in the respective product detail here: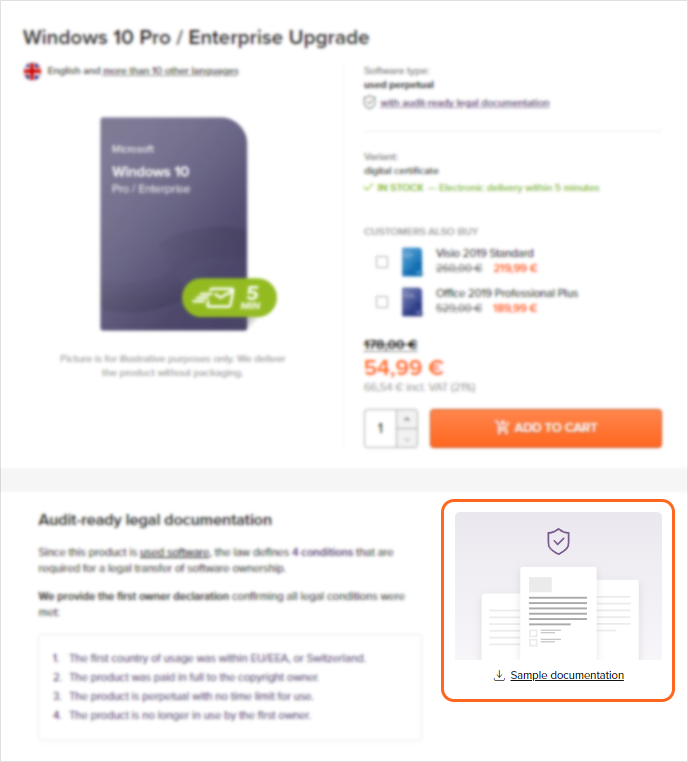 Do you have any questions regarding the documentation that we provide? Do not hesitate to contact us.
 Save this article as PDF