www.forscope.eu
Project 2013 Standard
English and
more than 10 other languages
German
French
Italian
Russian
Portuguese
Spanish
Arabic
Turkish
Chinese
Japanese
+ several other languages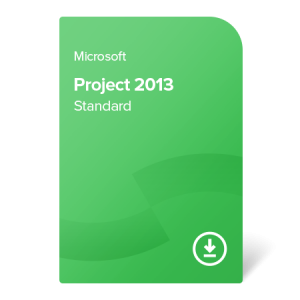 Picture is for illustrative purposes only. We deliver the product without packaging.
Software type:
used perpetual
with audit-ready legal documentation
Variant:
digital certificate
In stock
Electronic delivery within 5 minutes
Currently out of stock
Delivery by e-mail
Want to consult your project and get an individual price offer? Contact us.
Individual offer
Audit-ready legal documentation
Since this product is used software, the law defines 4 conditions that are required for a legal transfer of software ownership.
We provide the first owner declaration confirming all legal conditions were met:
The first country of usage was within EU/EEA, or Switzerland.
The product was paid in full to the copyright owner.
The product is perpetual with no time limit for use.
The product is no longer in use by the first owner.
Forscope declaration of non-usage is also a part of the legal documentation.
Want to know more about the provided documentation? Check our article.
Sample documentation
Transferable (online activation)
For 1 device only
No expiration date
Compatible only with Volume Office products (Standard or Professional Plus)
Compatible with Windows OS
Recommended for Windows 10 or older operating systems
Product type:
full version; possibly upgraded by maintenance agreement with copyright holder
Distribution type:
volume (OLP, EA or similar); digital certificate
Used software:
yes; we deliver all required documents in accordance with EU laws
Valid for:
lifetime
Transferability:
transferable
Installation method:
installation from the manufacturer's installation file (we provide a link for downloading the file)
Architecture:
32/64 bit
OS Compatibility:
Windows
Language:
multilingual
MS Office Compatibility:
MS Office Standard, MS Office Pro Plus and standalone MS Office apps
076-05068
mainstream support: 10.04.2018, extended support: 11.04.2023
Software certificate
Documentation in accordance with the EU laws
Confirmation of purchase (invoice)
Installation file to download
Processor:
1 GHz
Memory:
1 GB RAM (32-bit); 2 GB RAM (64-bit)
Hard disk space:
3 GB
Operating system:
Windows 7, 8, 8.1, 10; Windows Server 2008 R2, 2012, 2012 R2
Graphics:
DirectX 10 graphics processor
We also recommend
Visio 2013 Standard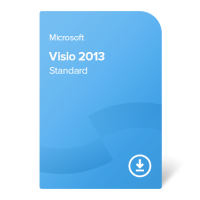 89,99 €
Project 2013 Professional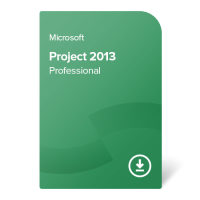 Price on request
Office 2013 Professional Plus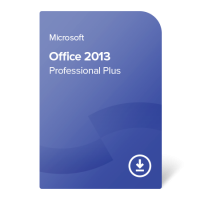 69,99 €
Project 2013 Standard
Microsoft Project 2013 offers a sophisticated system to manage your projects and monitor their progress. You can work independently or together with your colleagues and communicate with each other using built-in features. Project 2013 offers a completely new set of customizable reports, which will make it easy to trace the tasks' path and improve orientation in the complex Gantt chart. Achieve professional results in all respects of your project!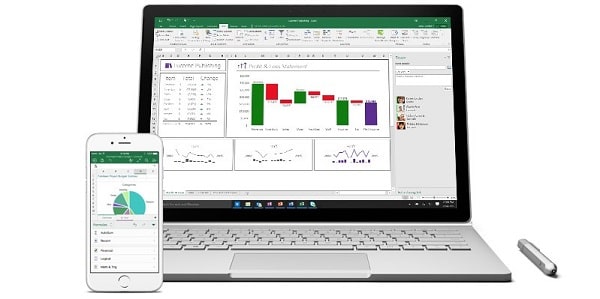 The Standard version is intended for small businesses and self-employed users who want to have their projects in order.
Start projects in an instant
With the enhanced visual environment and a wide range of new project templates, you can simply focus on what's really important. Browse ready-made templates, import data from Excel or sharepoint site, or simply click on an empty project and create a blank Gantt chart. Kick off any project swiftly and easily!
Monitor your project's progress
Thanks to this program, you will always know what tasks are already underway and what needs to be done next. The Left to complete and Resource overview features will help you monitor your project with their ready-made templates. And if the predefined templates don´t fit your needs, you can easily make your own. Have the unfinished tasks in check and identify the most critical points to finish your project successfully!
Collaborate with your team easily
Get advantage of the team communication tools and make the cooperation on your project as smooth as possible for everyone. The software will help you prevent problems, delays, and other negative factors that could affect your project schedule.
| | | |
| --- | --- | --- |
|  Feature | Project Standard 2013 | Project Professional 2013 |
| Quickly start projects with new project templates | | |
| Keep projects on track by resolving potential scheduling problems | | |
| Easily find and create great looking reports | | |
| Extend capabilities with apps from the Office Store | | |
| Easily manage resources using drag and drop | | |
| Call or instant message team members from within Project | | |
| Collaborate with others from virtually anywhere | | |
Important: It is not possible to install both volume and retail license versions of software on the same device. That means that, for example, you can't install Microsoft Office Home and Business (retail license) and Project Professional (volume license) on the same computer.