www.forscope.eu
Windows Server 2012 R2 Standard (2 CPU)
Windows Server 2012 R2 Standard (2 CPU)
English and
more than 10 other languages
German
Italian
Russian
Portuguese
Spanish
Turkish
Chinese
Japanese
Czech
Dutch
+ several other languages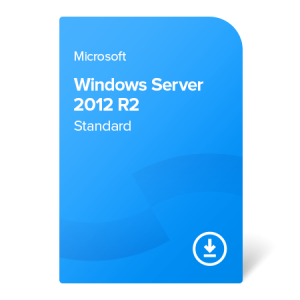 Picture is for illustrative purposes only. We deliver the product without packaging.
Software type:
used perpetual
with audit-ready legal documentation
In stock
Electronic delivery within 5 minutes
Currently out of stock
Delivery by e-mail
Customers also buy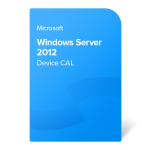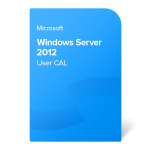 Want to consult your project and get an individual price offer? Contact us.
Individual offer
Audit-ready legal documentation
Since this product is used software, the law defines 4 conditions that are required for a legal transfer of software ownership.
We provide the first owner declaration confirming all legal conditions were met:
The first country of usage was within EU/EEA, or Switzerland.
The product was paid in full to the copyright owner.
The product is perpetual with no time limit for use.
The product is no longer in use by the first owner.
Forscope declaration of non-usage is also a part of the legal documentation.
Want to know more about the provided documentation? Check our article.
Sample documentation
Transferable (online activation)
Licensed per number of CPUs
No expiration date
Product type:
full version; possibly upgraded by maintenance agreement with copyright holder
Distribution type:
volume (OLP, EA or similar); digital certificate
Used software:
yes; we deliver all required documents in accordance with EU laws
Valid for:
lifetime
Transferability:
transferable
Installation method:
installation from the manufacturer's installation file (we provide a link for downloading the file)
Architecture:
32/64 bit
Language:
multilingual
P73-05760
mainstream support: 09.10.2018, extended support: 10.10.2023
Software certificate
Documentation in accordance with the EU laws
Confirmation of purchase (invoice)
Installation file to download
Processor:
1.4 GHz
Memory:
512 MB RAM
Hard disk space:
32 GB
Screen resolution:
1024×768 or higher
We also recommend
Windows Server 2016 Standard (16 cores)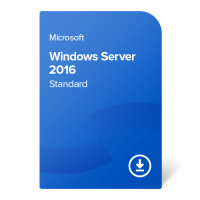 Price on request
Windows Server 2012 R2 Standard (2 CPU)
A powerful server solution that will help your business grow
Windows Server 2012 Standard R2 was designed to help businesses, schools, state institutions and others manage their data safely and effectively. It's a flexible, powerful, and easy-to-use server solution. It will provide everything you need for high class server management, secure access to sensitive data, reduced storage costs and dynamic cloud infrastructure.
Basic overview
– Perfect for: Any business with 25 or more users
– Up to two physical processors on a single server
– For lightly or non-virtualized environments
– The license does not include a CAL license (must be purchased separately)
– Server management and automation
– Access and information protection
– Web and application platform
Great performance and cross-platform support
Windows Server 2012 Standard R2 supports critical business workloads, increases the flexibility to move virtual machines globally and offers full Dynamic Memory support for Linux when needed. All of this helps with incredibly smooth management of the server virtualization.
Stable environment
Windows Server 2012 Standard R2 provides stable recovery capabilities in case of an incident. For instance, the Hyper-V host will automatically live migrate running virtual machines if the computer is shut down or network disconnection occurs. The program also enables the development of websites and applications by installing support optimized for open platforms. Plus, you can save storage costs by using VHD duplication and multiple storage options!
Easier data access with Workplace Join
This feature lets the user access files and directories easily with their personal devices such as laptops, mobile phones, or tablets. It creates an Active Directory entry for the device, delivering an authentication certificate that will allow you to give access to data on corporate servers – without the need to join a domain. 
| | | | |
| --- | --- | --- | --- |
| Enterprise-class | Simple and cost-effective | Application focused | User centered |
| Best-in-class performance and scale for Microsoft workloads. | Hyper-V network virtualization and multi-tenant VPN gateway. | VM portability between Windows Server and Windows Azure. | Single sign-on and access enabled across devices with Workplace Join. |
| Industry-leading 64-node clusters with 8,000 VMs. | 1,000,000 IOPS + for storage on industry-standard hardware with storage tiering. | Consistent development model across environments. | Unified application and device management. |
| Live migration compression and RDMA enhancements. | Storage de-duplication, including for VDI. | Common development tools to build applications on premises and for the cloud. | Granular, policy-based data protection. |
Server license with no CAL licenses included
– Can be used on any computer with fitting system requirements
– Can be re-installed on a different computer
– CALs (= Client Access Licenses) are required for every user or device accessing a server
Don't forget: CALs are required to access any instance of Windows Server and must be purchased separately. You can buy user CALS in our e-shop.
If you would like to know more information about the product and its licensing, see the original Microsoft datasheet: https://download.microsoft.com/download/F/3/9/F39124F7-0177-463C-8A08-582463F96C9D/Windows_Server_2012_R2_Licensing_Datasheet.pdf