Windows Server 2008 Device CAL
Windows Server 2008 Device CAL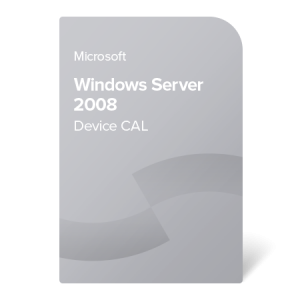 Picture is for illustrative purposes only. We deliver the product without packaging.
In stock Out of stock
Delivery:
On request Within 3 working days Within 1-2 working days Within 5 minutes

Free shipping
51,00 €
11,99 €
9,91 €

without VAT (21%)
98% of customers recommend shopping at forscope.eu
License type:
full version; possibly upgraded by maintenance agreement with copyright holder
Distribution type:
volume (OLP, EA or similar); digital certificate
Secondary software:
yes; we deliver all required documents in accordance with EU laws
License valid for:
lifetime
Transferability:
transferable
License certificate
Documentation in accordance with the EU laws (Seller's Declaration)
Confirmation of purchase (invoice)
We also recommend
Windows Server 2008 Device CAL
CALs - your access to Windows Server products
Windows Server 2008 CALs provide access to Windows Server 2008 or any of the previous versions. They give users the right to legally access a server installed with Windows Server software. Device CAL is for a single device with unlimited number of users.
Note: This is just a client access license, you can find the Windows Server 2008 programs here: Windows Server 2008 Standard or Windows Server 2008 Standard R2.