www.forscope.eu
SQL Server 2019 Enterprise (per CAL)
SQL Server 2019 Enterprise (per CAL)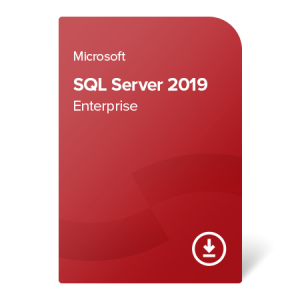 Picture is for illustrative purposes only. We deliver the product without packaging.
Software type:
used perpetual
with audit-ready legal documentation
In stock
Electronic delivery within 5 minutes
Currently out of stock
Delivery by e-mail
Customers also buy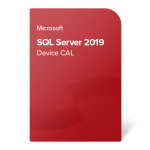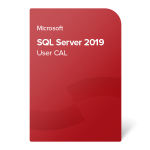 4 999,99 €
6 049,99 €
incl. VAT (21%)
Want to consult your project and get an individual price offer? Contact us.
Individual offer
Audit-ready legal documentation
Since this product is used software, the law defines 4 conditions that are required for a legal transfer of software ownership.
We provide the first owner declaration confirming all legal conditions were met:
The first country of usage was within EU/EEA, or Switzerland.
The product was paid in full to the copyright owner.
The product is perpetual with no time limit for use.
The product is no longer in use by the first owner.
Forscope declaration of non-usage is also a part of the legal documentation.
Want to know more about the provided documentation? Check our article.
Sample documentation
Transferable (online activation)
For 1 server
No expiration date
Up to 20 cores per SQL Server instance
Pricing depends on core-to-user ratio
Product type:
full version; possibly upgraded by maintenance agreement with copyright holder
Distribution type:
volume (OLP, EA or similar); digital certificate
Used software:
yes; we deliver all required documents in accordance with EU laws
Valid for:
lifetime
Transferability:
transferable
Installation method:
installation from the manufacturer's installation file (we provide a link for downloading the file)
Architecture:
64 bit
Language:
English
mainstream support: 14.01.2025, extended support: 08.01.2030
Other specifics:
up to 20 cores per SQL Server instance
Software certificate
Documentation in accordance with the EU laws
Confirmation of purchase (invoice)
Installation file to download
We also recommend
SQL Server 2019 Standard (per CAL)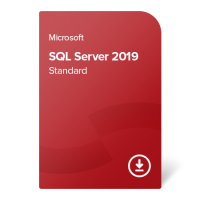 829,99 €
SQL Server 2017 Enterprise (2 cores)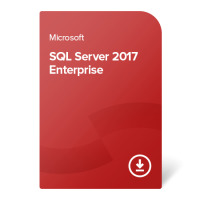 7 499,99 €
SQL Server 2017 Enterprise (per CAL)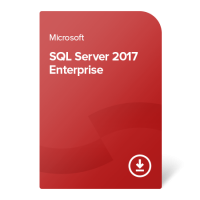 Price on request
SQL Server 2019 Enterprise (per CAL)
SQL Server 2019 Enterprise is most suitable for middle-sized and large businesses looking for a comprehensive, advanced database solution, requiring high-capacity computing and high-level security features. Besides having all the features of the Standard edition, it also offers various tools for analyzing business and financial data, along with critical applications and data warehousing features dedicated to enterprises.
Licensing details
Server per CAL availability
Recent versions of SQL Server Enterprise are only available in a per core licensing model, but we can still offer the latest version of SQL Server as a per CAL product.
How is it possible?
With the introduction of SQL Server 2012, the Enterprise edition was removed from the Server + CAL licensing model and newer SQL server licenses are no longer available for direct purchase. However, customers who purchased SQL Server Enterprise 2008 with an active Software Assurance (SA) coverage could continue to renew the SA on Enterprise edition servers and make an upgrade to the latest SQL Server software. Due to this fact, there's a limited amount of such products available on the market.
How does Server per CAL licensing work?
With a Server per CAL licensing model, a license has to be assigned to the physical server hosting any operating system environment (OSE) that runs SQL Server and an individual SQL Server CAL must be acquired for each user or device that accesses the server. 
Note: A CAL is required for every user or device; this SQL Server option is not based on concurrent connections, so even if only 5 out of 20 users access the server at any given time, you would still need 20 CALs to have them properly licensed.
When is Enterprise 2019 per CAL a better option than per core?
The Enterprise per CAL licensing model is a great choice for you, if:
you know the exact number of users/devices (and administrators) accessing the server, and
you don't have an excessive number of users/devices accessing it – the Server + CAL model is more economical up to a certain number of users/devices (see: comparison table).
Optimal cost efficiency is
achieved at the following values:
number of
cores
max. number of
users / devices
4
60
8
120
12
190
16
260
20
330
As shown in the table above, SQL Server 2019 Enterprise per CAL can be useful in implementation scenarios based on the overall number of users/devices who will access it. For some projects, it can be more advantageous than per core licensing.
Example:
8 cores and 100 users → SQL Server 2019 per CAL is cheaper.
8 cores and 150 users → SQL Server 2019 per core is cheaper.
12 cores and 150 users → SQL Server 2019 per CAL is cheaper.
Interested in this product but unsure whether it's right for your SQL Server? Contact us!
Features
SQL Server 2019 comes with many new features and services that significantly improve its capabilities and performance.
The most notable novelty is Big Data Clusters for SQL Server – a complete environment capable of smoothly handling large data sets, aided by machine learning and AI functionalities.
The Intelligent Database provides better scalability and efficiency with Intelligent Query Processing and In-Memory Database technologies optimize hardware operation.
Developer experience is enhanced with graph and spatial data types, and the UTF-8 support and the language extensions options make for a true global experience.
The SQL Server security has been strengthened by adding the possibility to manage certificates directly in the SQL Server Configuration Manager, and a new data sensitivity information field in the audit log can rank data by labels. Always Encrypted can now be applied to server-side secure enclaves, which ensures uninterrupted performance while increasing data safety.
SQL Server 2019 also boasts improvements in its database engine, Analysis Services, Machine Learning Services, Master Data Services, and can be run on both Windows and Linux.
For a full description of new and updated features, please visit the software manufacturer's website: https://docs.microsoft.com/en-us/sql/sql-server/what-s-new-in-sql-server-ver15?view=sql-server-ver15