Your installed Windows 10 must be activated within 30 days after the first login into the system. Do not forget about the activation! If the operating system is not activated, it is considered illegal and you're putting all of your data at risk, because they're not being protected.
Please note: Currently, all of our Windows 10 licenses are new and are activated during installation, which means that you don't need to go through this activation guide unless an error occurs when entering your product key. Also, if you'd like to transfer your license from one device to another, deactivate it first (click here to see how) and then follow the activation guide below, after you install Windows on the new device.
Internet activation
The easiest way to activate your Windows is via the internet.
Follow these steps to activate your Windows 10:
Click Update & Security and go to Activation (see the picture below).
Find the 'Change product key' and click it. A window requiring you to enter your product key will appear.
Enter your product key that you received with your order, click Next and then follow the instructions.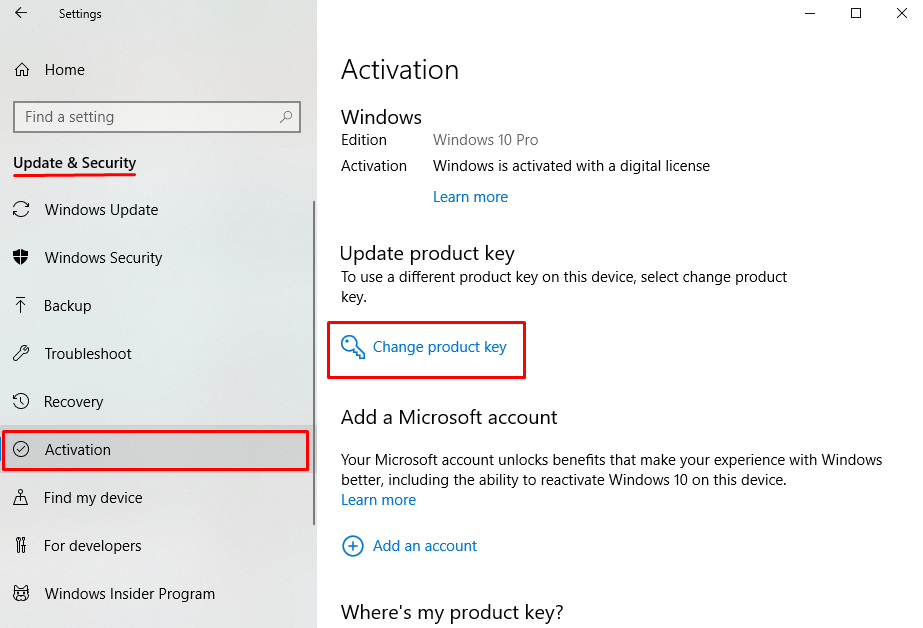 Phone activation
If the Internet activation of your product isn't successful for any reason, you can activate your Windows 10 via phone activation. To make the phone activation more convenient for you, we have created a semi-automated online phone activation service called Letactivate.com, that will help you activate your product swiftly and easily.
See our step-by-step guide for phone activation of Windows 10 here:
Guide for the Phone Activation of Windows 10 Products
If you are not sure what to do, please call our Customer support for assistance on this number: +420 225 850 268