Follow the steps below to successfully install and activate your Microsoft Office 2019 Volume product.
This guide is applicable to Volume license types of Office products, such as:
Office Standard, Office Professional Plus, Visio Standard, Visio Professional, Project Standard, and Project Professional.

If you need help installing your Retail or OEM suite – Office Home and Student, Office Home and Business or Office Professional, please contact our customer support.
Before installing your software, please make sure that:
your computer meets the respective Office 2019 system requirements,
your current operating system is up to date with the latest Windows Updates,
Office Home and Student, Office Home and Business or Office Professional are not installed on your computer; if they are, uninstall them.
Step-by-step guide
Installation
Go to onesam.eu and login with your email and order number.
Download and run our application Forscope Installer.exe.
You may see the following warning:

This message occurs because the app is brand new and it hasn't gained trusted status in Windows' safety systems yet.
Click on More info and choose Run anyway.
When the Forscope Installer opens, it looks like this:

From the Product drop-down list, select the product you purchased from us.
In the Components field, you can untick the Office applications that you don't plan to use.
From the Platform drop-down list, select the type of architecture for your product: 32-bit or 64-bit.
Typically it's best to select 64-bit – this way your product will perform better on modern operating systems and devices.
From the Language drop-down list, choose which language you would like your product to be in.
Once you're done customizing the installation, click Download & Install.
Now just wait for your product to be installed. The green progress bar in the Installer will fill up several times and some additional windows will appear – this is normal and it's part of the process.
Do not close Installer or the additional windows or the installation will be interrupted!
Office is completely installed when you see this window: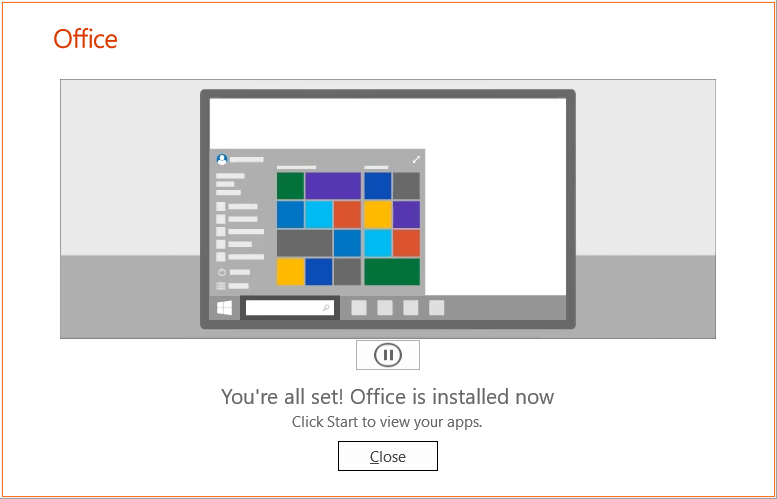 You can now close the Installer.
Activation
Once the installation is done, you need to activate your product to finalize the process.
Run the software you just installed – Project, Visio, or any Office app, for example Word.
Open a blank document.
Go to menu File → Account and click Change Product Key in the yellow field.

Enter your product key in the pop-up window and a moment later the Activate Office button will appear – click it and your product will be activated and ready to use!