Office 2019 Home and Student for Mac
Office 2019 Home and Student for Mac
English and
more than 10 other languages
German
French
Italian
Russian
Portuguese
Spanish
Arabic
Turkish
Chinese
Japanese
+ several other languages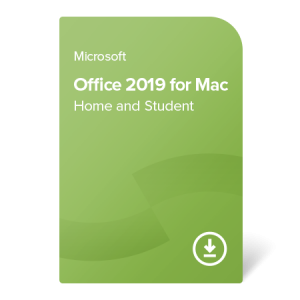 Picture is for illustrative purposes only. We deliver the product without packaging.
In stock Out of stock
Delivery:
On request Within 3 working days Within 1-2 working days Within 15 minutes

Free shipping
We also recommend:
169,99 €
140,49 €

without VAT (21%)
80% of customers recommend shopping at forscope.eu
License type:
full version
Distribution type:
retail; digital certificate
Secondary software:
yes; we deliver all required documents in accordance with EU laws
License valid for:
lifetime
Transferability:
transferable
Installation method:
installation from the manufacturer's installation file (we provide a link for downloading the file)
Architecture:
32/64 bit
OS Compatibility:
macOS
Usage:
for non-commercial use only
Language:
multilingual license
License certificate
Documentation in accordance with the EU laws (Seller's Declaration)
Confirmation of purchase (invoice)
Installation file to download
Screen resolution:
1280×768 or higher
Operating system:
macOS 10.12 or a newer version
Hard disk format:
HFS+ (also known as macOS Extended or HFS Plus)
Hard disk space:
10 GB
Memory:
4 GB RAM
Processor:
Intel
We also recommend
Office 2016 Home and Student for MAC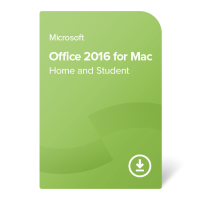 149,99 €
Office 2019 Home and Student for Mac
Microsoft Office 2019 Home and Student for MAC is the latest Office suite for home users and students who want to create beautifully designed and professional looking documents, spreadsheets, or presentations. Packed with many new and improved features, Office 2019 will help you manage your daily tasks, or school work easily while enabling you to express your thoughts and ideas just the way you envisioned. The program includes all the powerful applications that you're used to – Word, Excel, PowerPoint, and OneNote.
Important: Microsoft Office 2019 Home and Student for MAC is compatible with the three most recent versions of macOS.
ith

Word 2019

, you can create great looking and clearly structured documents in no time. It provides a large range of features that will take your work to a whole new level. The beautiful predesigned templates will save you plenty of time. You can also express your creativity and make your own customized templates.
Word 2019 includes new inking tools, large base of fonts, shapes and clips that will make your documents visually attractive. Plus, the new focus mode will help you eliminate distractions during the writing process, making it easier for you to finish your work more quickly. And thanks to the new profound spell and grammar check, you can be confident even when writing very complicated texts!
W

Excel 2019

helps you manage various types of data even in large amounts. Use wide range of math and statistic formulas and save a lot of time by letting the program calculate everything for you. New formatting, tables, charts, graphs and data-analysis features will help you shape your data in a captivating way swiftly and easily. You can also use templates to speed up the creating process even more!

PowerPoint 2019
is one of the most popular presentation software with intelligent technology that will help you bring your presentation to life in no time
.
Enrich your story and ideas with beautiful design, upbeat music, cinematic motion, 3D models or icons. Impress your friends, teachers, or colleagues with modern and professional looking presentations that will stand out!
OneNote
is an application for taking digital notes. Its very handy tools will help you organize your ideas, class notes, or shopping lists just the way you need.  Draw and sketch with the new inking tools, use clips from the web, or make an easy-to-follow to-do lists to keep track of everything that's important for completing your tasks.