NordVPN Teams Dedicated Server – 1 month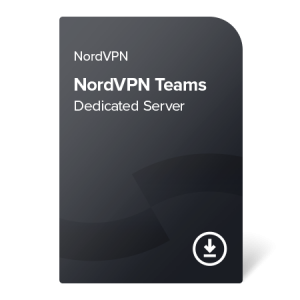 Picture is for illustrative purposes only. We deliver the product without packaging.
Digital certificate
1-month subscription
Compatible with Windows OS, macOS, Android, iOS and Linux
Can be used as a new subscription or for renewal
Product type:
full version
Distribution type:
subscription; digital certificate
Valid for:
1 month
Installation method:
installation from the manufacturer's installation file (we provide a link for downloading the file)
Architecture:
32/64 bit
OS Compatibility:
Windows, macOS, Android, iOS, Linux
Language:
English
Other specifics:
number of active connections: 6
Software certificate
Documentation in accordance with the EU laws (Seller's Declaration)
Confirmation of purchase (invoice)
Installation file to download
Operating system:
Windows 7, 8, 8.1, 10; macOS 10.10 or a newer version; Android 4.4 or a newer version; iOS 9.0 or a newer version, Linux
We also recommend
NordVPN Teams Advanced – 1 month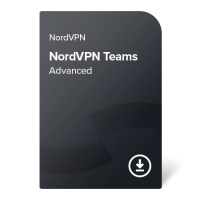 10,99 €
NordVPN Teams Advanced – 1 year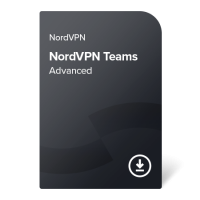 107,99 €
NordVPN Teams Dedicated Server – 1 month
Tighten security with dedicated servers
NordVPN Teams Dedicated Servers are special servers leased only to your organisation and not shared with anyone else. This way you can build a more secure network and select a virtual location for your company – NordVPN Teams offers more than 20 dedicated server locations for you to choose from.
Licensing
One license gives you access to one dedicated server in the NordVPN Teams network. To be able to add dedicated servers to your IT infrastructure, you need to sign up for NordVPN Teams Advanced first.
Features
Any virtual location
Choose your company's virtual location with a dedicated IP. Every employee in your network connecting to NordVPN Teams will have the same IP address and will be based in the same virtual location.
Create custom gateways
Create multiple virtual locations with custom gateways. With NordVPN Teams, you can have static IP addresses for specific regions dedicated to different teams and branches.
Control access
Manage access permissions by whitelisting specific IPs. You can prevent unauthorized access by only enabling IPs from NordVPN Teams gateways.
Make sure your team can smoothly access business data wherever they are!