www.forscope.eu
Microsoft 365 Business Basic – 1 year
Microsoft 365 Business Basic – 1 year
English and
more than 10 other languages
German
French
Italian
Russian
Portuguese
Spanish
Arabic
Turkish
Chinese
Japanese
+ several other languages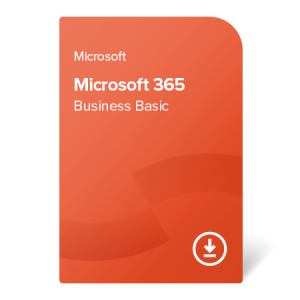 Picture is for illustrative purposes only. We deliver the product without packaging.
Software type:
subscription
Variant:
digital certificate
In stock
Electronic delivery within 1-2 business days
Currently out of stock
Delivery by e-mail
Customers also buy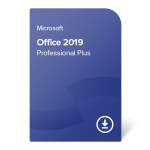 Want to consult your project and get an individual price offer? Contact us.
Individual offer
Transferable (online activation)
1-year subscription for 1 user
Can be used as a new subscription or for renewal
Important: Microsoft subscriptions are non-refundable
Product type:
full version
Distribution type:
subscription; digital certificate
Valid for:
1 year
Transferability:
transferable
Installation method:
installation from the manufacturer's installation file (we provide a link for downloading the file)
Architecture:
32/64 bit
OS Compatibility:
Windows, macOS, Android, iOS
Software certificate
Documentation in accordance with the EU laws
Confirmation of purchase (invoice)
Installation file to download
Operating system:
Windows 7, 8.1, 10; two most recent versions of macOS
Screen resolution:
1280×768 or higher
Graphics:
DirectX 9 graphics processor with WDDM 2.0 driver
We also recommend
Office 2019 Standard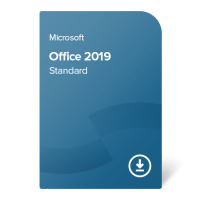 189,99 €
Microsoft 365 Business Basic – 1 year
Microsoft 365 Business Basic is a productivity suite that best fits companies looking for an affordable cloud solution as a supplement to their desktop Office suite (such as Office 2019). Users of Microsoft 365 Business Basic can enjoy premium web and mobile apps, adapted especially for businesses.
Product contents:
Microsoft Teams – online meetings and video conferencing for up to 300 users.
Web and mobile versions of Office apps: Outlook, Word, Excel, PowerPoint, OneNote.
OneDrive – 1 TB of cloud storage per user.
50 GB mailbox and custom email domain address.
Licensing details
This subscription plan can be used to start a new administrative account or added to your existing Microsoft 365 Business account. Note that it cannot be used with a regular, non-business Microsoft account.
Features
All Microsoft 365 apps and services are routinely updated and beside bug fixes and security updates, you will also get all the newest features instantly. 
Microsoft Teams is a popular, widely-used cloud-based teamwork software whose main features include messaging, file sharing, video calling and meetings. Highly adaptable, MS Teams is suitable for companies of all sizes. Thanks to integration with many other Microsoft products and services like Exchange, PowerPoint and SharePoint, MS Teams enables collaboration on content in real time by both local and remote employees across different devices and platforms, including Windows, macOS, Android and iOS.
Word 365 gives you the tools to create contemporary-looking and clearly structured documents effortlessly. The continuous improvements in spelling and grammar error detection, coupled with speech recognition features and Microsoft Translator, assist your writing regardless of the language used. Word 365 also offers transformation of documents into PDF or into interactive, easy-to-share web pages.
Excel 365 helps you operate various types and amounts of data quickly and precisely. Create spreadsheets from templates and turn your data into captivating, clear and understandable documents. Speed up entering mathematical statements with the Ink Equations feature which automatically converts handwritten equations into usable formulas, and present the results of your data analysis in a visually compelling way with graphs, charts, and even 3D models.
PowerPoint 365 presents your photos, business ideas, plans or reports in a highly sophisticated way. Add dynamics to your story and ideas with rich animations, cinematic motion, Morph, Zoom, 3D models and more. Use @mentions in the comments to let your co-workers know when you need their input and enjoy fast cooperation from anywhere.
Outlook 365 is the industry-leading application for sending emails, storing contacts, managing tasks and organizing personal and group calendars. Prioritize your agenda with the Focused Inbox feature, which sorts the most important e-mails in the Focused tab and the less relevant ones in the Other tab, tag your colleagues in emails with the "@" command, or pick a time that works for everyone and schedule meetings across time zones.
OneNote 365 embeds almost any type of file ranging from Excel spreadsheets to video clips, accommodating even your most demanding note-keeping needs. The app can be synced across all your devices, allowing you to jot down impressions and memos in your digital notebooks from anywhere.
OneDrive provides up to 1 TB file hosting space and additional synchronization services. It connects all your files across Microsoft 365 and across many different platforms and devices and allows you to share and collaborate on your projects with other members of your team smoothly and intuitively.
Exchange Online implements a hosted messaging solution similar to the capabilities of Microsoft Exchange Server – it gives users access to email, mailbox, calendar, contacts, and tasks from PCs, the web, and mobile devices.
SharePoint Online helps enterprises to create, share and manage content, sites, knowledge, workspaces and applications across the organization. With SharePoint you can empower teamwork and collaboration between different departments by allowing them to quickly find and share all the required information within and outside your organization.
---
Looking for a hybrid solution? Check our article below and find out how to make the most of both perpetual and subscription-based products!
Office 2019, Microsoft 365, or both?