Thinking of buying the newly released Office 2021? We strongly recommend getting Office 2019 instead – it comes with almost the same features and when you buy the used software products that we offer, you can save up to 70% on costs!
Office 2019 vs Office 2021
Have a look at the following table to see the comparison of the Professional Plus edition (highly recommended for business customers) of Office 2019 and Office 2021:
Click on the black triangle next to each property for more details.
Property
Office 2019 Professional Plus
Office LTSC Professional Plus 2021

Apps

Compared to Office 2019, the 2021 version reintroduces the OneNote application and adds a well-known, popular messaging app – MS Teams.

Word, Excel, Outlook, PowerPoint, Access, Publisher, Skype for Business
Word, Excel, Outlook, PowerPoint, Access, Publisher, Skype for Business, Teams, OneNote

Languages

MS Office is available in many languages officially supported by Microsoft.

same for both: English, German, French, Italian, Spanish, Russian and many more

File formats

With both Office suites you can save, open, import, export and generally manage files in the same format. They also provide native support for the most commonly used external formats.

same for both: doc, docx, odt, rtf, pdf, xml, xls, csv, html, pps, ppsx, etc.

OS compatibility

Both Office suites are fully compatible with the two latest Windows operating systems, including server solutions.

same for both: Windows 10, Windows 11, Windows Server 2019, Windows Server 2022

End of support

Office 2019 suite will be receiving bug fixes and security updates until October 2025. Office LTSC 2021 will be supported for only one year longer – up until October 2026.

October 2025
October 2026
What's new in Office 2021?
Have a look at the main new features and improvements:
MS TEAMS: chat client included – the newest Office suite includes the app so you don't have to download it from the Microsoft Store.
Important: In order to use the business version of MS Teams, purchasing a subscription is still required.
WORD: text predictions – improves writing speed by providing suggestions based on the first few letters of the word that the user is typing.
EXCEL: dynamic arrays – allows receiving an array of multiple values with a single formula; LET function – speeds up writing complex formulas by assigning names to calculation results.
POWERPOINT: new and improved Record Slide Show – presenters can now make a video recording of a PowerPoint presentation together with the narration, slide timing, ink gestures and pointer movements.
OUTLOOK: automated translation – translates email messages into more than 70 languages directly in the email client; the translation is immediately displayed next to the original message in the mailbox.
Support for OpenDocument format (ODF) 1.3 – provides new levels of compatibility and grants access to many ODF features.
Visual refresh – brings a more up-to-date look and feel of the most popular Office applications, including Word, Excel and PowerPoint.
Summary
In conclusion, Office 2021 brings only a handful of new features and a couple of improvements that were already available in Microsoft 365 subscription plans. Its only major advantage over Office 2019 is the inclusion of the MS Teams app. That's why we suggest the following cost-saving solutions:
Option A:

Choose Office 2019 over 2021
If your business does not need  MS Teams, there is simply no point in getting the latest MS Office suite – it has nearly the same features as Office 2019, just at a higher price.
Interested in buying an Office 2019 suite?
Check out our offer in the Office 2019 category!
Option B:

Get a hybrid solution
If your business needs  MS Teams and some of the other Microsoft cloud services as well, instead of getting Office 2021, consider investing in a hybrid solution: Office 2019 Professional Plus + Microsoft 365 Business Basic!
Office 2019 Professional Plus – provides all the advanced features of a perpetual product for enterprise use, including all classic desktop apps, centralized deployment, Remote Desktop Services compatibility.
Microsoft 365 Business Basic – adds MS Teams, cloud storage, custom email domain and more to your IT infrastructure.
The combination of these two products will cover your business' needs similarly to a Microsoft 365 Business Premium plan while reducing your expenses for software significantly – check out the total cost of ownership (TCO) comparison graph below to see how quickly this hybrid solution can become beneficial for your business:
TCO comparison between a perpetual, hybrid and subscription solution over 5 years:
TCO comparison between a perpetual, hybrid and subscription solution over 5 years: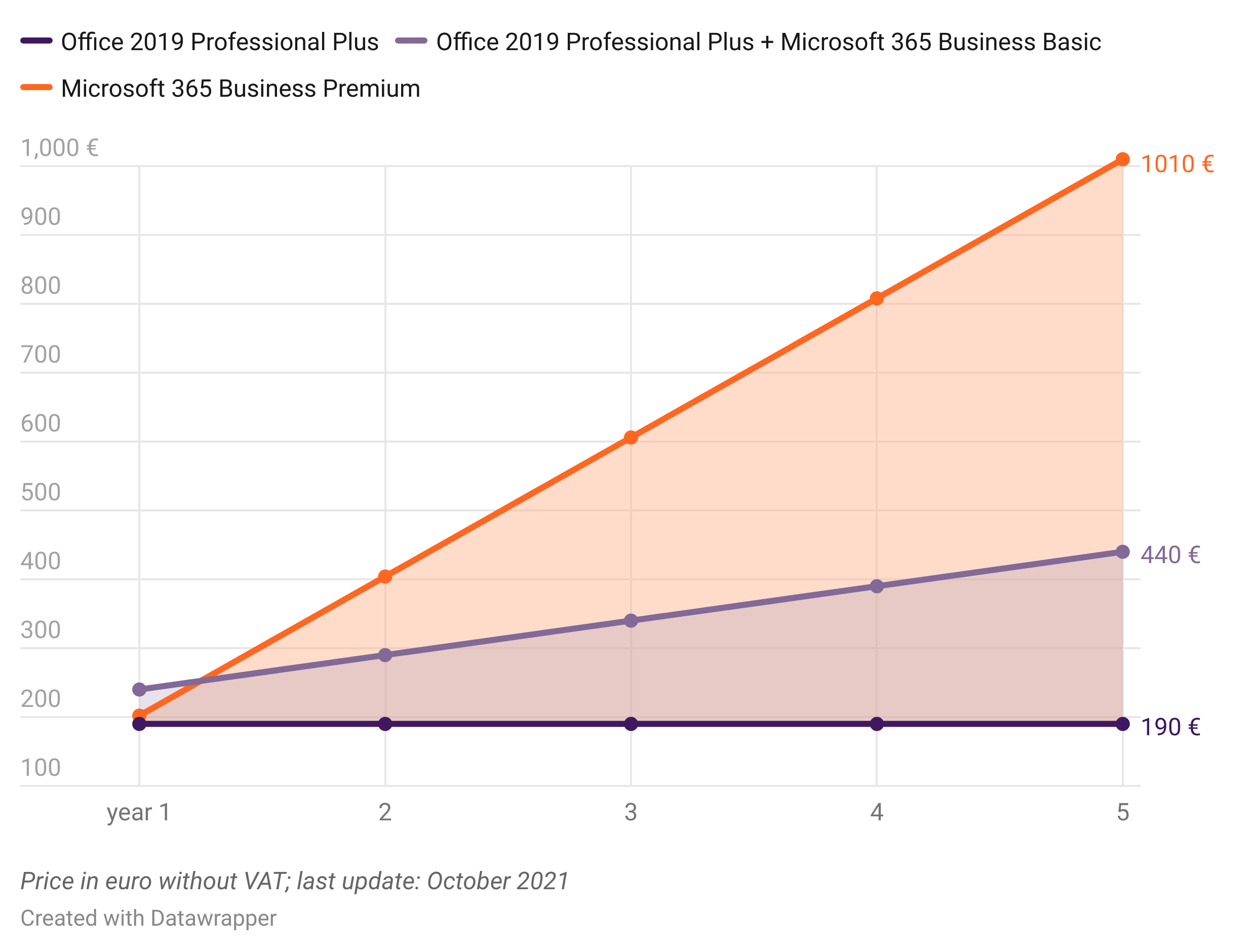 The hybrid solution pays itself off in less than a year and a half in comparison with the Microsoft 365 subscription plan – the longer you use it, the more money your company saves!
Interested in a hybrid solution but not sure which one is right for you?
Contact us and we will help you decide!