Adobe Photoshop CS6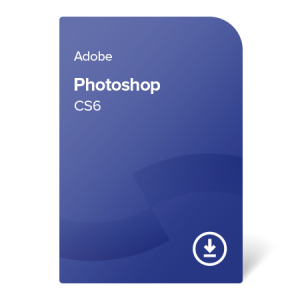 Picture is for illustrative purposes only. We deliver the product without packaging.
Digital certificate
No expiration date
Compatible with both Windows OS and macOS
Product type:
full version; possibly upgraded by maintenance agreement with copyright holder
Distribution type:
volume (OLP, EA or similar); digital certificate
Secondary software:
yes; we deliver all required documents in accordance with EU laws
Valid for:
lifetime
Transferability:
transferable
Installation method:
installation from the manufacturer's installation file (we provide a link for downloading the file)
Architecture:
32/64 bit
OS Compatibility:
Windows, macOS
Language:
English
Software certificate
Documentation in accordance with the EU laws (Seller's Declaration)
Confirmation of purchase (invoice)
Installation file to download
Operating system:
Windows XP (SP3), 7 (SP1), 8, 8.1, 10; macOS X Snow Leopard (10.6.8) to macOS Mojave (10.14)
Graphics:
OpenGL 2.0-compatible graphics card
Hard disk space:
1 GB (for Windows); 2 GB (for Mac)
Memory:
1 GB RAM
Processor:
Intel Pentium 4 or AMD Athlon 64 (for Windows OS); Multicore Intel processor with 64-bit support (for macOS)
Adobe Photoshop CS6
The next generation of the legendary photo-editing program brought many great new features and improvements. New modern interface and redesign of icons, buttons and dialogs make the CS6 version much more intuitive than its predecessors. New content aware and Patch tools as well as new realistic brushes allow even more advanced enhancing and editing of photos. And thanks to a much greater usage of GPU, you can see the result of the edits and manipulations to your photos significantly quicker!
Great for: Photographers, web, print, and interactive designers, video professionals, motion graphics designers, VFX artists
Note: This product is in English language.