Adobe After Effects CS6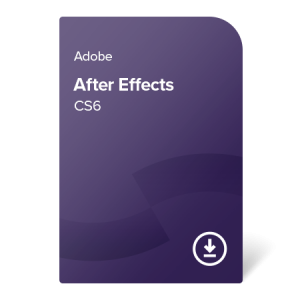 Picture is for illustrative purposes only. We deliver the product without packaging.
In stock Out of stock
Delivery:
On request Within 3 working days Within 1-2 working days Within 15 minutes

Free shipping
1 015,00 €
599,99 €
495,86 €

without VAT (21%)
80% of customers recommend shopping at forscope.eu
License type:
full version; possibly upgraded by maintenance agreement with copyright holder
Distribution type:
volume (OLP, EA or similar); digital certificate
Secondary software:
yes; we deliver all required documents in accordance with EU laws
License valid for:
lifetime
Transferability:
transferable
Installation method:
installation from the manufacturer's installation file (we provide a link for downloading the file)
Architecture:
32/64 bit
OS Compatibility:
Windows, macOS
Language:
English
License certificate
Documentation in accordance with the EU laws (Seller's Declaration)
Confirmation of purchase (invoice)
Installation file to download
Operating system:
Windows 7 (SP1), 8, 8.1, 10; macOS X Snow Leopard (10.6.8) to macOS Mojave (10.14)
Graphics:
OpenGL 2.0-compatible graphics card
Hard disk space:
3 GB (for Windows); 4 GB (for Mac)
Memory:
4 GB RAM
Processor:
Intel Pentium 4 or AMD Athlon 64 (for Windows OS); Multicore Intel processor with 64-bit support (for macOS)
Adobe After Effects CS6
Get things moving with the Adobe After Effects CS6! The program helps with video post-production — be it clips, commercials, or movies. You can create virtually any animation you can think of, now even quicker than ever before. The improvements in performance will allow you to get more done in less time and to enjoy a much smoother workflow. It also includes presets that save plenty of time, are highly customizable, and can be used to create grandiose show openings, text animations, and many other motion graphics!
Great for: Motion graphics designers, visual effects artist, video editors, post-production professionals, interactive designers
Note: This product is in English language.