www.forscope.eu
Microsoft 365
Microsoft 365 provides the latest Office applications along with many useful cloud services (such as remote work, cloud storage, security features) which will help your business grow. You can choose from 4 different subscription plans for businesses, and 2 plans for home users.
Microsoft 365
Business Premium
Microsoft 365
Business Standard
Microsoft 365
Business Basic
Microsoft 365
Apps for Business

Desktop apps

Web / mobile apps

Teams
OneDrive
Exchange
SharePoint
Intune,

AIP

237,00 €
134,00 €
64,00 €
113,00 €
Need more information?
Click one of the links below to learn more about each topic:
What's the difference between an Office suite (perpetual product) and a Microsoft 365 subscription?
Office suites are a one-time purchase, which means you only have to pay once for your selected product. Updates are provided for a set period of time – they consist of security patches and bug fixes, but the product features stay the same.
Microsoft 365 is based on a subscription model – repeated payment is required in order to use the programs and services. The product receives regular feature updates, security patches and bug fixes for the prepaid period of time – e.g. 1 year, 3 years etc.
Can't decide which type of product would be better for your company? Our article might help you find the answer: Office 2019, Microsoft 365, or both? Find out what's most suitable for you
I have a perpetual Office suite already, but I also need Teams and OneDrive. Can I combine these products somehow?
Yes, you can keep using the perpetual Office as your main productivity suite and subscribe to Microsoft 365 Business Basic, which contains Teams and OneDrive, as well as other cloud services, such as Exchange and SharePoint.
Alternatively, you can purchase an IceWarp subscription, which provides video conferencing and chat like Microsoft Teams, and cloud storage like OneDrive, as well as many other tools and features essential for office work. What's more, it's significantly cheaper – take a look at the graph below which compares similar Microsoft 365 and IceWarp plans for 150 users over 5 years: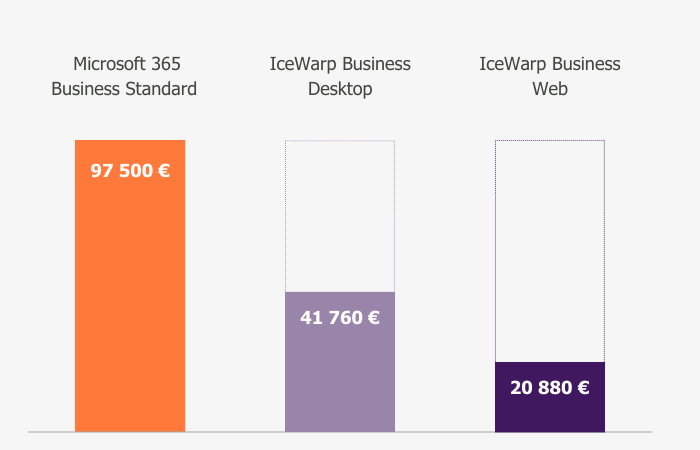 Can I use the Microsoft 365 products available on your offer to renew my current subscription?
Yes, our products can be used both for starting a new subscription or for renewing your current one.
Does Microsoft 365 require access to the internet?
Internet access is required to download, install and activate all the latest releases and updates for apps and services available in the Microsoft 365 subscription plans.
It is possible to use Office apps such as Word, Excel, and PowerPoint offline if they are fully installed on your computer. This way you do not have to stay connected to the Internet all the time.