Testovací produkt
English and
more than 10 other languages
German
French
Italian
Russian
Portuguese
Spanish
Arabic
Turkish
Chinese
Japanese
+ several other languages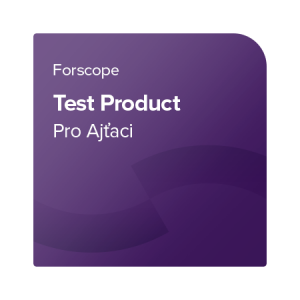 Picture is for illustrative purposes only. We deliver the product without packaging.
Digital license (subscription)
1-year subscription
Compatible with Windows OS
License type:
full version
Distribution type:
subscription; digital certificate
License valid for:
1 year
Transferability:
transferable
Installation method:
installation from the manufacturer's installation file (we provide a link for downloading the file)
Architecture:
32/64 bit
OS Compatibility:
Windows
Language:
multilingual license
License certificate
Documentation in accordance with the EU laws (Seller's Declaration)
Confirmation of purchase (invoice)
Installation file to download
Operating system:
Windows XP (SP3), 7 (SP1), 8, 8.1, 10
Hard disk space:
1.5 GB
Memory:
256 MB RAM
We also recommend
Testovací produkt
Avast Internet Security poskytuje kompletní antivirovou, anti-spyware, anti-spam a firewall ochranu. Je to doplněno produktem avast! SafeZone™ a nové hybridní cloudové technlogie chrání váš počítač proti virům, spywaru a dalšími typy malwaru.
Avast Internet Security skóre:
Umístěn v TOP 5 v testu Nejlepší Antivirový Software roku 2018 provedeného portálem Top Ten Reviews.
Nakupujte a používejte online bankovnictví bez obav
SafeZone vytváří soukromé a izolované virtuální okno na ploše pro zabezpečení citlivých finančních transakcí při nakupování nebo bankovnictví online.
Surfujte a socialzujte se bez rušení
Sandbox umožňuje surfovat po webu a spouštět programy prakticky (mimo počítač) a štíty Web, IM a P2P zajišťují vaši bezpečnost na sociálních sítích (Facebook, Twitter atd.), IM chat (Skype, ICQ atd.), nebo stránky pro sdílení souborů.
Využijte ochranu v reálném čase
Technologie Hybrid cloud streamuje aktualizace virové databáze do počítače v reálném čase,takže váš avast! software má všechny definice virů, jakmile jsou známy virové laboratoři.
Udržujte své ID vaše a vaše sám
Vestavěný tichý firewall blokuje hackery a další neoprávněné pokusy o krádež citlivých dat z počítače. Phishingovým útokům je zabráněno pomocí vestavěného anti-spamu.
Vědět, co přijde, než kliknete
Cloud-based funkce FileRep udržuje pověst údajů nespočet souborů pomocí specifických kritérií pro určování rizika, takže program vás upozorní, zda soubor je bezpečné, nebo ne předem.
Podívejte se na vaši avast! historii
Váš účet Avast portál je váš osobní adresář pro všechny vaše avast! související údaje. Každý měsíc je pro vás připravena bezpečnostní zpráva s přehledem nejvýznamnějších změn a operací (např. počet zablokovaných infikovaných webů).