Have you bought a new computer and would you like to transfer your settings from the previous device? Is copying all the files manually too time consuming? Then you will find the Microsoft Easy Transfer (MET) tool handy! It will allow you to transfer all your data effectively.
The perks of this tool are its simplicity and time efficiency of the transfer. Due to the file explorer, you can choose exactly the data you want to transfer. The process is smooth and almost lag-free because the update brought a feature making the tool skip all corrupted data. 
Transfer options
There are several transfer options to choose from.
You can use a special MET cable you purchased with the computer. If you cannot find it at home, you can get it at many IT stores. Be sure to install the MET from the CD that you got with the cable before you plug the cable into the old computer.
Another option is a network transfer. Both computers must be connected to this network. All you have to do is run the MET on the new computer and follow the instructions.
Probably the easiest way is a transfer via USB or external hard drive. If you choose this option, we recommend a USB/HDD with the highest transfer speed.
Open the Start menu and type transfer in the search line, or navigate to All Programs, Accessories, System Tools, and click on Windows Easy Transfer.
Click on Next when the application opens.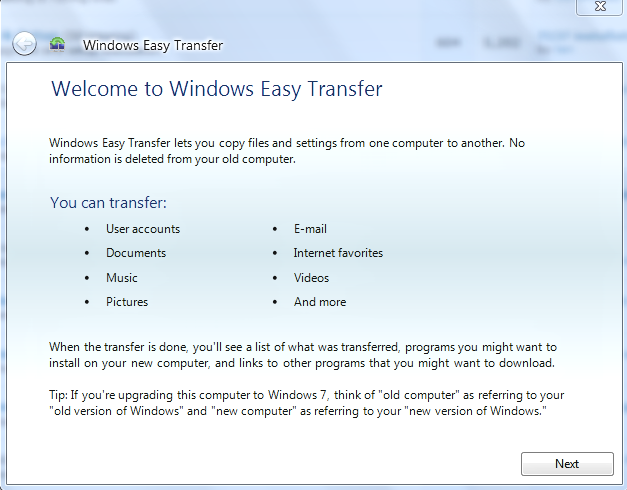 Choose whether you use external drive (HDD, USB), an Easy transfer cable or you sync your settings via network.
Select that this is your old computer.
Select specific items to be transfered
Enter password. This serve as added protection to your packed settings and files.
Click next and, pick a Hard drive or USB key where you want to put your migrated files and Wait.
To transfer files to a new computer simply chose "this is my new computer" at the beginning of this process and then locate your Windows Easy Transfer file.
Please, bear in mind that you can transfer only the settings of the programmes, not the programmes themselves. The programmes should be installed on the new computer before your run the MET tool to ensure safe transfer of the settings.
Transfer safety
The transfer might copy even harmful software onto your new computer. That is why we recommend scanning your old computer with an antivirus programme before the transfer. It is also useful to scan the new computer after the transfer to make sure no harmful software was skipped on the old computer and transferred to the new one.