Windows 8 Installation is not very different from similar actions in previous software versions, but the beginners will for sure appreciate this "step by step" installation guide.
---
Hardware requirements
1 GHz processor or faster with support for PAE, NX, a SSE2;
1 GB (32-bit) or 2 GB (64-bit) RAM;
16 GB (32-bit) or 20 GB (64-bit) free disc space;
Graphic card with DirectX® 9 and WDDM driver.
1. Setting the booting priority
Insert the installation DVD of Windows 8 system to your drive or connect the booted USB drive and restart your PC.

After restart go to BIOS (key F2, DEL,...) You'll see list of possibilities. From this very list pick the option "BIOS settings".

You will see window with BIOS settings. Choose option Boot order.

Choose particular DVD (or USB drive) as the default running device. Save the changes (usually by pressing F10 key).

Restart your computer and begin the Windows 8 installation.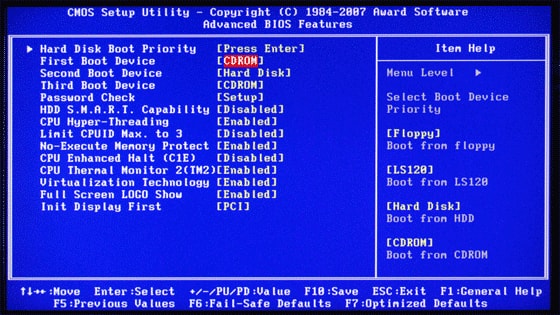 2. Choose language, date, time and keyboard settings
Choose settings of date, time and language.

Confirm by clicking Next.

In the next window choose Install now.

Highlight I accept the licence terms  (it's necessary to finish the installation) and continue by clicking Next.

3. Choose installation type and copying of basic files
choose type of installation (you can go straight to Windows 8 from basic Windows installation, then you will save all files and documents). If you want to do full installation, choose Custom (Advaced).

In opened window choose drive on which you want to install the system. If you want to change something in the partition, click on Drive Options and change the disc content due to your preferences.

Click Next.

Begin the automatic part of the installation (few operations, which include files copying, preparing of install components etc.). After that, the system will restart itself.

After next restart you will see information, that you can start the installation from CD or DVD disc by clicking keys combination - ignore it.

4. Setting the basic parameters
Run Windows 8 for the first time and choose the name of the computer, which will be used for network identification.

Click Next. To set the parameters in the quickest way choose Use express.

Windows 8 will run last operations and will preprare your PC to the first usage with new parameters. In the upper right corner you can see your login, and the classic design can be open by clicking Desktop button.