Office 2019 Home and Business for Mac
Office 2019 Home and Business for Mac
English and
more than 10 other languages
German
French
Italian
Russian
Portuguese
Spanish
Arabic
Turkish
Chinese
Japanese
+ several other languages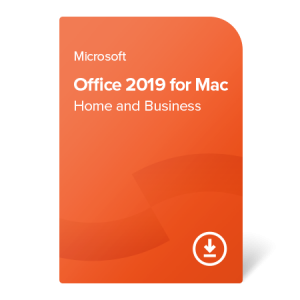 Picture is for illustrative purposes only. We deliver the product without packaging.
In stock Out of stock
Delivery:
On request Within 3 working days Within 1-2 working days Within 15 minutes

Free shipping
We also recommend:
318,00 €
199,99 €
165,28 €

without VAT (21%)
80% of customers recommend shopping at forscope.eu
License type:
full version
Distribution type:
retail; digital certificate
Secondary software:
yes; we deliver all required documents in accordance with EU laws
License valid for:
lifetime
Transferability:
transferable
Installation method:
installation from the manufacturer's installation file (we provide a link for downloading the file)
Architecture:
32/64 bit
OS Compatibility:
macOS
Language:
multilingual license
License certificate
Documentation in accordance with the EU laws (Seller's Declaration)
Confirmation of purchase (invoice)
Installation file to download
Screen resolution:
1280×768 or higher
Operating system:
macOS 10.12 or a newer version
Hard disk format:
HFS+ (also known as macOS Extended or HFS Plus)
Hard disk space:
10 GB
Memory:
4 GB RAM
Processor:
Intel
We also recommend
Office 2016 Home and Student for MAC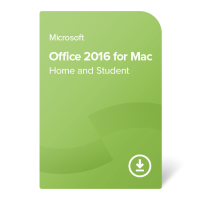 149,99 €
Office 2019 Home and Business for Mac
Microsoft Office 2019 Home and Business for MAC includes Word, Excel, PowerPoint, OneNote, and Outlook. The new Office suite delivers a modern, intuitive look, roaming pencil case and ribbon customizations in all Office apps, new inking tools, improved translation and editing tools, motion graphics, and many other features. It will enable you to create documents, spreadsheets, and presentations just the way you need in no time.
Important: Microsoft Office 2019 Home and Business for MAC is compatible with three most recent versions of macOS.
Word 2019
provides a wide range of new features, templates and tools to create great looking and structured documents. The improved technology to detect spelling and grammar errors and a Microsoft Translator tool will provide a great support for your writing, so that your documents will always be highly presentable no matter the language you're writing in.
To personalize your document, use new digital pen options and express yourself in a creative and unlimited way. You can also refine the look of your documents by adding icons or other scalable vector graphics (SVGs) to make the result look exactly like you imagined!

Excel 2019

helps you manage various types and amounts of data easily. Create spreadsheets from templates and use the app to turn your data into captivating documents. Excel 2019 includes new appealing features like: a map chart to compare values and show categories across geographical region, Scalable Vector Graphics, funnel charts to show values across multiple stages of a process, Ink equations for including a complex math equations and even more!

Use
PowerPoint 2019
to present your photos, business ideas, plans or reports in a professional and highly attractive way.  Empower your story and ideas with
beautiful design, rich animations,
PowerPoint Morph,
cinematic motion, or 3D models and icons that will impress both your friends and business partners. Plus, the new
PowerPoint Zoom feature introduces non-linear storytelling – you can now create interactive summary slides that will give your presentations a fresh and modern look!
OneNote
is a digital note taking application that will cover all of your needs! It will help you organize your notes easily – from recipes to meetings. Make well-arranged to-do lists, draw and sketch your ideas, or use clips from the web.

Outlook 2019

is the best management and tracking tool for emails, contacts, tasks, and personal and group calendars. It provides both traditional powerful features as well as new ones that will make your work even more efficient. One of the new additions is the Focused Inbox feature that separates your inbox into the Focused tab, that includes the most important e-mails, and the Other tab, where you can easily access the not so relevant messages. You can also take a look at people's responses to a meeting request, use "@" commands for tagging people in emails, or pick a time that works for everyone and schedule meetings across time zones.