Office 2013 Home and Student
Office 2013 Home and Student
English and
more than 10 other languages
German
French
Italian
Russian
Portuguese
Spanish
Arabic
Turkish
Chinese
Japanese
+ several other languages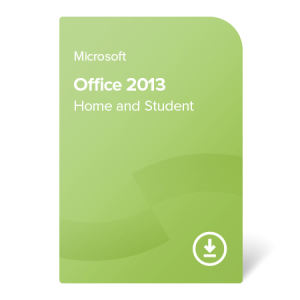 Picture is for illustrative purposes only. We deliver the product without packaging.
In stock Out of stock
Delivery:
On request Within 3 working days Within 1-2 working days Within 15 minutes

Free shipping
We also recommend:
133,00 €
54,99 €
45,45 €

without VAT (21%)
98% of customers recommend shopping at forscope.eu
License type:
digital certificate
Distribution type:
retail; digital certificate
License valid for:
lifetime
Transferability:
transferable
Installation method:
installation from the manufacturer's installation file (we provide a link for downloading the file)
Architecture:
32/64 bit
OS Compatibility:
Windows
Usage:
for non-commercial use only
Language:
multilingual license
MS Office Compatibility:
MS Office Home and Student, MS Office Home and Business, MS Office Professional
License certificate
Documentation in accordance with the EU laws (Seller's Declaration)
Confirmation of purchase (invoice)
Installation file to download
Operating system:
Windows 7, 8, 8.1, 10; Windows Server 2008 R2, 2012, 2012 R2
Graphics:
DirectX 10 graphics processor
Hard disk space:
3 GB
Memory:
1 GB RAM (32-bit); 2 GB RAM (64-bit)
Processor:
1 GHz
We also recommend
Office 2016 Home and Student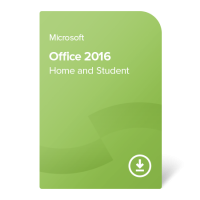 89,99 €
Office 2013 Home and Business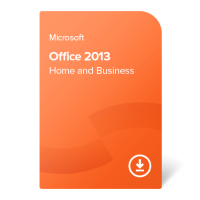 69,99 €
Office 2013 Home and Student
Indispensable tools for your home and school needs
With the improved and intelligently-designed apps you will work on any project with joy! This Office suite includes the core applications Word, Excel, PowerPoint and OneNote.
Note: The program can't be used for commercial purposes. 
Word has a new Design tab on its ribbon that makes it easier to apply various formatting features and to understand how they relate to one another.

Excel improved by including some more intuitive features such as QuickAnalysis. This feature enables you to find the right tools for your data and preview your changes before applying them.

Powerpoint presents a variety of improvements that gives you the flexibility to customize the design of your presentation more than before. Extremely fun is to interact with your PowerPoint documents on touch devices as you can now swipe, tap, scroll, zoom, and pan your way through your presentations.

OneNote enables you to insert mediums in swift and more comfortable ways. For instance, you may now insert screen clippings. To do that, bring into view the thing you want to capture, then switch back to OneNote and click Insert →Screen Clipping. As soon as the screen dims and OneNote disappears, you have to select with the cursor the part you need to capture and in no time it will be in your OneNote file. 
Additionally, if you work on a touch device, you can now switch between touch and mouse options.