Microsoft Windows 8.1 Pro
Microsoft Windows 8.1 Pro
English and
more than 10 other languages
German
French
Italian
Russian
Portuguese
Spanish
Arabic
Turkish
Chinese
Japanese
+ several other languages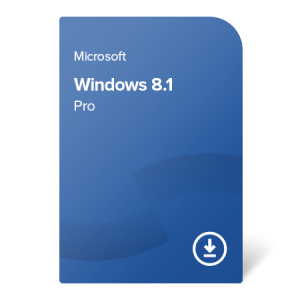 Picture is for illustrative purposes only. We deliver the product without packaging.
In stock
delivery within 5 minutes
Currently out of stock
Delivery by e-mail
Customers also buy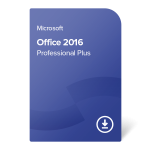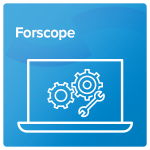 98% of customers recommend shopping at forscope.eu
Digital certificate
Transferable (online activation)
For 1 device only
No expiration date
Compatible with almost any PC or laptop
Product type:
full version; possibly upgraded by maintenance agreement with copyright holder
Distribution type:
volume (OLP, EA or similar); digital certificate
Secondary software:
yes; we deliver all required documents in accordance with EU laws
Valid for:
lifetime
Transferability:
transferable
Installation method:
installation from the manufacturer's installation file (we provide a link for downloading the file)
Architecture:
32/64 bit
Language:
multilingual
FQC-02460
Software certificate
Documentation in accordance with the EU laws (Seller's Declaration)
Confirmation of purchase (invoice)
Installation file to download
Graphics:
DirectX 9 graphics processor with WDDM 1.0 driver
Hard disk space:
16 GB (32-bit); 20 GB (64-bit)
Memory:
1 GB RAM (32-bit); 2 GB RAM (64-bit)
Processor:
1 GHz
We also recommend
Windows 7 Professional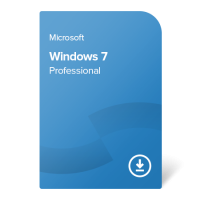 29,99 €
Office 2013 Professional Plus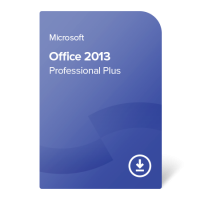 69,99 €
Windows 10 Pro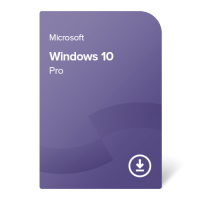 54,99 €
Microsoft Windows 8.1 Pro
Agile and attractive system with the returned Start menu
Windows 8.1 operating system is based on the successful version of Windows 8, but in addition adds another major innovations that make your work and play more comfortable. One of the main reasons for buying a Windows 8.1 is its speed, intuitiveness and clarity on desktops and tablets. Due to lower hardware requirements than its predecessors has Windows 8.1 better stability and speed, as well as safety. The Professional Edition is designed for more demanding home users or business customers.

New tiled Metro interface
Windows 8.1 offers a clear and visually attractive user interface that can be easily operated by touching, as well as using the mouse and keyboard. Tiles representing applications and settings can be freely adapt, to which will help also different sizes of tiles. In addition to quick finding of your favorite applications new environment will also offer the latest information on weather, new posts on social networks or even share prices on stock market. For users who do not share the enthusiasm of the new environment, there's an easy solution – Metro can be easily switched off.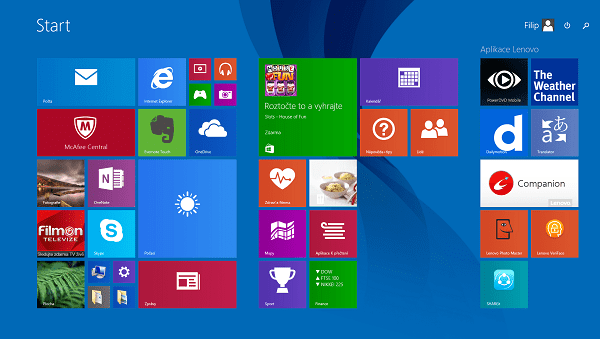 Complex search
Search files, computer settings or on the Internet with a shortcut Win + S. Intuitive search engine will accelerate work and always find what you need. There is newly allocated far more space for an extensive search.
Multitasking
One monitor is already not enough for you? Not so with the new system. Newly you will have the opportunity to view several applications side by side, depending on the resolution of your monitor. In addition, you can assign a different application window width and fill the whole desktop by them. Nothing will therefore prevent you from working on a project and watching sport match or chatting with friends at the same time.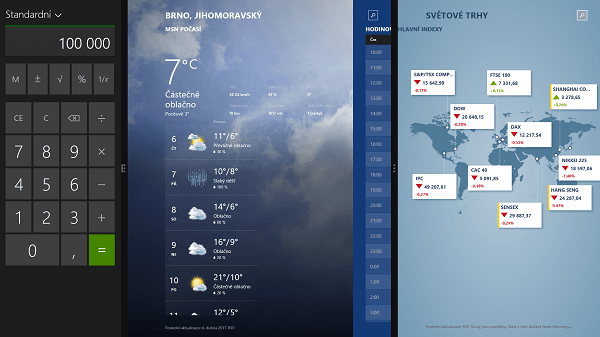 Integrated cloud storage
Application SkyDrive for storing photos, videos, and other documents is now integrated directly in the system and it does not need to be retrofitted. In addition, it comes with the drag-and-drop files management or automatic flies synchronization between your PC, laptop or tablet. SkyDrive will also serve synchronizing and backuping your settings in Windows.
100+ apps in the Windows Store
You can easily extend your pre-installed system applications with new application from the Windows Store built into the Metro environment. Store offers a wide range of applications recommended other users or by Microsoft experts. Newly it´s focused directly on you and offer you the applications that you might enjoy.