Bitdefender GravityZone Business Security – 1 Year
Bitdefender GravityZone Business Security – 1 Year
English and
more than 10 other languages
German
French
Italian
Russian
Portuguese
Spanish
Chinese
Japanese
Czech
Dutch
+ several other languages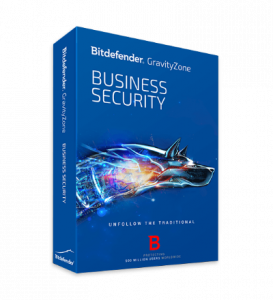 Picture is for illustrative purposes only. We deliver the product without packaging.
1-year license for 1 device
Compatible with both Windows OS and macOS
The minimum amount you can order is 3 licenses
OS Compatibility:
Windows, macOS
Minimum Order Quantity:
3 licenses
We also recommend
Bitdefender GravityZone Business Security – 1 Year
IMPORTANT! This product requires a purchase of minimum 3 licenses.
Bitdefender GravityZone Business Security blends machine learning and heuristics with signatures, behavioral analysis, continuous monitoring of running processes and other advanced techniques to offer comprehensive security against all malware, including threats such as phishing, ransomware, spyware and zero-day exploits.
Patented technologies such as Process Inspector and machine learning algorithms are constantly being improved against most severe ransomware attacks. No GravityZone subscriber was affected by WannaCry – which ravaged companies all over the world in May 2017.
Bitdefender GravityZone Business Security also protects mobile devices and provides security for Exchange mailboxes – all managed from a single console. With centralized management, you don't have to update, monitor or troubleshoot security locally, so your employees can focus on their tasks.
Bitdefender GravityZone Business Security is simple to manage thanks to its advanced granular policy settings which allow handling by admins and users without strong IT background with equal ease.
Forget about security issues and relax!