www.forscope.eu
AutoCAD LT 2019
English and
more than 10 other languages
German
French
Italian
Russian
Portuguese
Spanish
Chinese
Japanese
Czech
Hungarian
+ several other languages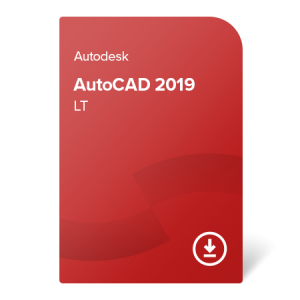 Picture is for illustrative purposes only. We deliver the product without packaging.
Digital certificate
No expiration date
Compatible with both Windows OS and macOS
Product type:
full version; possibly upgraded by maintenance agreement with copyright holder
Distribution type:
digital certificate, single license (can only be used on the device it is installed on)
Used software:
yes; we deliver all required documents in accordance with EU laws
Valid for:
lifetime
Transferability:
transferable
Installation method:
installation from the manufacturer's installation file (we provide a link for downloading the file)
Architecture:
32/64 bit
OS Compatibility:
Windows, macOS
Usage:
pairable with Autodesk account
Language:
multilingual
Software certificate
Documentation in accordance with the EU laws (Seller's Declaration)
Confirmation of purchase (invoice)
Installation file to download
Processor:
2.5 GHz
Memory:
8 GB RAM
Hard disk space:
6 GB
Operating system:
Windows 7 (SP1), 8.1, 10; macOS 10.13 or a newer version
Screen resolution:
1920×1080 or higher
Graphics:
DirectX 11 graphics processor; 1 GB GPU
We also recommend
AutoCAD LT 2019
AutoCAD LT editions offer fast, precise and simplified, yet professionally executed 2D drafting and documentation. Designed primarily for less demanding users and tasks, it offers a more affordable solution for your team, in comparison with the full version of AutoCAD.
The improved 2D drawing tools increase the efficiency and accuracy of your team and minimize repetitive work – beside the standard vector drafting, you can attach raster images to your vector drawings as externally referenced files, quickly view, access, manage, and plot multiple drawings as a sheet, and enjoy a streamlined intuitive interface while working.
Thanks to the TrustedDWG technology, you can share your work with other team members on desktop, cloud and mobile platforms; additionally, files created with it are compatible with all other Autodesk products.
New and improved features in AutoCAD LT 2019


Compare DWG files – overlays two chosen drawings and highlights the differences between them
Share Design Views – allows you to publish design views to URL, so you can show them to clients for feedback without sharing the actual DWG file
AutoCAD web and mobile apps – continue your work even when you're on the go: view, create, and edit drawings via iOS, Android, and Windows devices
Improved visuals in Draw order, Raster Images and Visual Properties
Transparency of objects and layers – stress the importance of drawing elements and add depth to your drawings by adjusting the transparency of selected objects or entire layers
Licensing
Enjoy the advantages that AutoCAD LT 2019 has to offer for your small business or organization over the long term with a perpetual, non-expiring single user license – ideal for well-established teams of 2D CAD users (such as architecture, engineering and construction professionals) with permanently assigned workstations. The license is for a single user, so it can only activate one device at a time, but it is transferable – you can remove it from one device and then activate it on another with the official License Transfer Utility tool.
---
Looking for the classic full version of AutoCAD 2019?
We can obtain it for you. Just ask about the product availability via one of the contacts below and we'll get back to you.
 by phone: +420 225 850 268
What's the difference between AutoCAD LT and the classic AutoCAD?
| | | |
| --- | --- | --- |
| Feature | AutoCAD LT | AutoCAD |
| 2D drafting, drawing and documentation | | |
| 3D modelling and visualization | | |
| Industry-specific toolsets | | |
| Annotation of drawings with dimensions, text and tables | | |
| Personalization of the ribbon and tool pallets | | |
| Personalization of APIs | | |
| Obtaining of object data directly in tables | | |
| Import and referencing of data from PDF files | | |
| Single-user (device) licensing | | |
| Multi-user (network) licensing | | |