www.forscope.eu
AutoCAD LT 2011 – perpetual ownership
AutoCAD LT 2011 – perpetual ownership
English and
10 other languages
German
French
Italian
Russian
Portuguese
Spanish
Chinese
Czech
Hungarian
Polish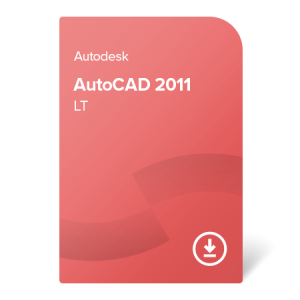 Picture is for illustrative purposes only. We deliver the product without packaging.
Software type:
used perpetual
Variant:
SLM (single license manager)
In stock
Currently out of stock
Delivery by e-mail
Want to consult your project and get an individual price offer? Contact us.
Individual offer
No expiration date
Compatible with both Windows OS and macOS
Transfer to end user Autodesk account can take up to 6 business days
Recommended for Windows 8.1 or older operating systems
Product type:
digital certificate
Distribution type:
digital certificate, single license (can only be used on the device it is installed on)
Valid for:
lifetime
Transferability:
transferable
Installation method:
installation from the manufacturer's installation file (we provide a link for downloading the file)
Architecture:
32/64 bit
OS Compatibility:
Windows, macOS
Usage:
pairable with Autodesk account
Language:
multilingual
2014
Software certificate
Documentation in accordance with the EU laws
Confirmation of purchase (invoice)
Installation file to download
Processor:
3 GHz
Memory:
1 GB RAM
Hard disk space:
1.5 GB
Operating system:
Windows XP, Vista, 7; macOS 10.5 or a newer version + Boot Camp v2.0/Parallels v4.0
Screen resolution:
1024×768 or higher
We also recommend
AutoCAD LT 2013 – perpetual ownership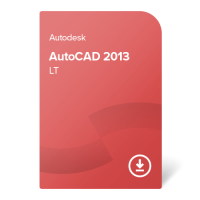 Price on request
AutoCAD LT 2022 – perpetual ownership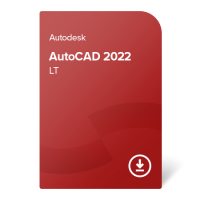 Price on request
AutoCAD LT 2016 – perpetual ownership
Price on request
AutoCAD LT 2011 – perpetual ownership
AutoCAD LT editions offer fast, precise and simplified, yet professionally executed 2D drafting and documentation. Designed primarily for less demanding users and tasks, it offers a more affordable solution for your team, in comparison with the full version of AutoCAD.
New features in AutoCAD LT 2011 
PDF import – import geometry, fills, font files, TrueType text, and raster images from a PDF
External file references – fix broken paths for externally referenced files with ease
Object selection – selected objects stay selected even if you pan or zoom offscreen
Text to Mtext – convert combinations of single-line and multi-line text to a single Mtext object
User interface – work intuitively with common dialog boxes and toolbars
Design views – edit and manage AutoCAD views and drawings online from any computer with Autodesk's A360 service
High-resolution monitor support – enjoy clear and smooth viewing experience even on 4K and higher resolution displays
Licensing
Enjoy the advantages that AutoCAD LT 2011 has to offer for your small business or organization over the long term with a perpetual, non-expiring single user license – ideal for well-established teams of 2D CAD users (such as architecture, engineering and construction professionals) with permanently assigned workstations. The license is for a single user, so it can only activate one device at a time, but it is transferable – you can remove it from one device and then activate it on another with the official License Transfer Utility tool.
Compatibility
This product was released prior to the release of the Windows 10 and Windows 11 operating systems, and is not officially supported on those systems. As a result, full compatibility with newer systems cannot be guaranteed, so we recommend deploying this product on either Windows 7 or Windows 8.1 to avoid issues.
The same principle is valid for Apple devices; for them, we recommend installing this product on systems older than macOS 10.13.x (High Sierra) to avoid issues.
---
Looking for the classic full version of AutoCAD 2011?
Contact us – we can obtain it for you.
What's the difference between AutoCAD LT and the classic AutoCAD?
| | | |
| --- | --- | --- |
| Feature | AutoCAD LT | AutoCAD |
| 2D drafting, drawing and documentation | | |
| 3D modelling and visualization | | |
| Industry-specific toolsets | | |
| Annotation of drawings with dimensions, text and tables | | |
| Personalization of the ribbon and tool pallets | | |
| Personalization of APIs | | |
| Obtaining of object data directly in tables | | |
| Import and referencing of data from PDF files | | |
| Single-user (device) licensing | | |
| Multi-user (network) licensing | | |