Adobe Premiere Pro CS6 (DE) – perpetual ownership
Adobe Premiere Pro CS6 (DE) – perpetual ownership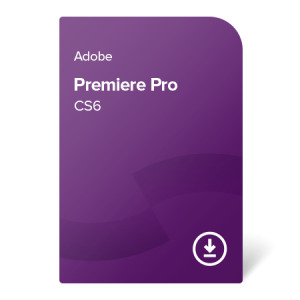 Picture is for illustrative purposes only. We deliver the product without packaging.
Digital certificate
No expiration date
Compatible with both Windows OS and macOS
Product type:
full version; possibly upgraded by maintenance agreement with copyright holder
Distribution type:
volume (OLP, EA or similar); digital certificate
Secondary software:
yes; we deliver all required documents in accordance with EU laws
Valid for:
lifetime
Transferability:
transferable
Installation method:
installation from the manufacturer's installation file (we provide a link for downloading the file)
Architecture:
32/64 bit
OS Compatibility:
Windows, macOS
Language:
German
65171995
Software certificate
Documentation in accordance with the EU laws (Seller's Declaration)
Confirmation of purchase (invoice)
Installation file to download
Operating system:
Windows 7 (SP1), 8, 8.1, 10; macOS X Snow Leopard (10.6.8) to macOS Mojave (10.14)
Graphics:
OpenGL 2.0-compatible graphics card
Hard disk space:
4 GB
Memory:
4 GB RAM
Processor:
Intel Pentium 4 or AMD Athlon 64 (for Windows OS); Multicore Intel processor with 64-bit support (for macOS)
Adobe Premiere Pro CS6 (DE) – perpetual ownership
Premiere Pro CS6 is a professional digital video-editing program that will help you create stunning videos with ease. The revamped user interface focuses on a clear display of your clips so that the results of your edits ar even more apparent than before. It also comes with improved multi-camera support, better color correction, and support for modern formats such 2K, 4K and 5K videos without the need to convert them first.
Great for: Video and film editors, post-production professionals, motion graphics designers, visual effects artists
Note: This product is in German language.